Ready to start dating again, but afraid to take the first step?

Tired of dating "frogs" and getting skeptical about finding your "prince"?

Need help moving out of your comfort zone into dating experiences that are more fruitful, fulfilling and fun?
Dating after 40:
CREATE YOUR IDEAL RELATIONSHIP KIT
will empower you to find that meaningful relationship you deserve.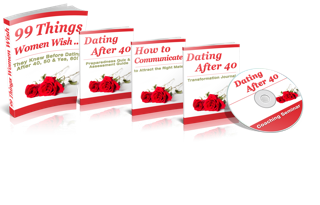 Fed up with dating disasters and playing games? Tired of repeating old patterns that attract the same bores, brutes or boys? Millions of women over 40 are looking for more – and they want it now!
Our new Dating after 40: Create Your Ideal Relationship Kit gives you everything you need to accelerate your success and enjoy the process of attracting your Mr. Right.
Relationship Coaches and authors Amy Sherman, LMHC and Rosalind Sedacca, CCT understand the needs, challenges and insecurities mature women face in finding meaningful relationships. From the sensible to sexual ... the where and when to the how and how not ... they've honed their messages to deliver insightful awareness and powerful techniques - that really work!
Within this Kit you'll find strategies, advice and tips you need to know about before dating, while dating, when entering into a romantic relationship and when deciding whether you've found a "keeper."
You get five valuable resources, each one created to enhance your dating skills and radar while building your intuitive sense of personal empowerment. Each Kit includes:
Dating Experts agree – 99 Things Women Wish They Knew Before Dating After 40, 50, & Yes, 60 - is a book that packs a big punch!
"This is the first time I have taken the time to write a book review. I hope it will be useful as you decide whether or not to purchase this great book.

As a 62 year old attractive, intelligent and self-examined woman, I will begin dating again in the near future. I appreciate the writers directness, detailed explanations and illustrative, yet brief, stories. This book is so well written and engaging that I finished it in 2 1/2 hours. In my opinion, it clearly addresses all the sensitive, pertinent issues of dating at almost any age especially as a mature woman. I highlighted many salient points that I will reference as needed in the future. I will also recommend it as a source to my therapist and other people I feel might benefit from your message.

Thank you so much for taking the time to focus such an important subject to "us baby boomers". Actually, in my opinion, your book would be excellent for women of all ages who are dating or in relationships."
Teri
"99 Things is filled with wisdom you never got growing up and you can't get from your friends. It's not just a good guide to dating, it's a smart guide to living."
Judith Sherven, PhD and Jim Sniechowski, PhD, best-selling authors of The Smart Couple's Guide to the Wedding of Your Dreams
"This small book packs a really big punch, and provides solid, grounded answers to the big questions mature women often find themselves asking."
Jackie Black, Ph.D., author Meeting Your Match: Cracking the Code to Successful Relationships
"Dating in mid-life or later is a real challenge for so many people. Anyone with concerns will find so much down-to-earth advice between these pages. This would also make a great gift for someone who you know is struggling with getting back in the scary dating game. Congratulations to Roz and Amy for sorting through it all."
Phyllis May, author,"Refired not Retired...reignite your zest for life"
"As both a psychotherapist and a woman from the 'sixties set' who just returned to the dating scene I was amazed at how 'on target' this book is!! Not only were the messages those I would deliver as a therapist, but reading them helped guide me through this new venture in my own life...a truly helpful read!"
Mimi Scott, PhD, MSW, Author, Tales of Children of Divorce
"This book is witty, wise and absolutely wonderful! Starting over at any age can be hard, but when you've been out of the loop for a while it's sometimes down- right terrifying. These ladies have broken it down into organized and easy to read snippets that cover the gambit from sensible to sexual and everything in between. I will definitely recommend it to all of my divorcing women clients!"
Lisa C. Decker, Certified Divorce Financial Analyst, www.DivorceMoneyMatters.com
"This is NOT another "quick fix" to dating but a foundation of how dating paradigms shift with age. Rosalind & Amy deliver a step-by-step guide that is easy to follow and can be implemented instantly! What I admire most is their ability to portray the advantages that age & experience can bring to the table! The authors show you that creating long term, lasting relationships at this age with an emotionally available and stable partner is not only in your cards but attainable step-by-step!"
Ben Winkler, Relationship Coach for Singles, www.BenWinkler.com
After reading this book ...
Tap into the 4 additional parts of the process for Creating Your Ideal Relationship - each one giving you new insights and new confidence in attracting your love mate.
Manifesting a healthy relationship takes inner as well as outer awareness. That's where most women go wrong. They under-value the importance of inner preparation and focus all their attention on how they look, where they go and what they say. Professional athletes know the "inner game" is even more important than practice and outer performance in determining their results. It's the same with dating and relationships. Confidence, self-esteem, trusting your intuition and personal empowerment play a huge part in attracting and keeping a relationship worthy of who you are.
Each part of your Kit was designed to complement the others … working together to boost your strengths and firm up your weaker assets. It's a winning combination that gives you a competitive edge that has nothing to do with looks, weight, background, finances or other self-sabotaging beliefs. And all the tools, tips and techniques are easy to access and implement in one place – your Dating After 40: Create Your Ideal Relationship Kit.
Based on Real experience & Real Results!
The sound psychological principles and proven relationship-building techniques you get in this Kit are based on the authors' in-the-trenches experience – both clinical as well as personal.
Amy Sherman's expertise comes from more than twenty years in private practice specializing in relationship therapy. She understands the insecurities, disappointments and frustrations single women experience and the ways they inadvertently sabotage their own success.

Rosalind Sedacca's contribution comes from two directions: her own divorce followed by six years of being single and then remarrying into a happy relationship for the past ten years. She also taps into her twenty-year background as a Certified Corporate Trainer and Relationship Coach providing countless workshops for singles and couples.

Together Amy and Rosalind combine their knowledge and experience with their sincere commitment to empowering the lives of single women. The result is real relationship guidance you can count on!
A Small Investment for creating Big Relationship Success!
Isn't it time to take the pain and frustration out of dating – and enjoy the rewards you deserve?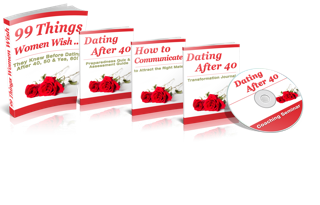 Now you can, with just one click. Order your
Dating After 40: Create Your Ideal Relationship Kit
today, and here's what you get …
99 Things Women Wish They Knew Before Dating After 40, 50 & Yes, 60! ($18.00 value)
Dating After 40 Preparedness Quiz & Assessment Guide ($19.00 value)
Dating Audio Coaching Seminar ($24.00 value)
How to Communicate to Attract the Right Mate ($39.00 value)
Dating After 40 Transformation Journal ($39.00 value)
That's a $139 total value – Specially Priced in your choice of
Shipped or Digital Options!


Option 1:
Includes an author-signed book plus the CD shipped directly to you and the ebooks ready for instant download – just $77.00!
(Free Shipping Included)

Option 2:
Order the entire Kit in instant download Digital Format for just $57.00!


Whichever format you choose, this 5-piece Kit will have you dating smarter, feeling more empowered and having more fun. It will re-ignite your spark for attracting a meaningful relationship and heighten your radar for knowing where to find it. And you'll love the process of transforming yourself into the YOU … you most want to be!
Your Total Satisfaction Guaranteed

Not sure whether this Kit is for you? We've eliminated your risk! If you're not totally pleased with your Dating After 40: Create Your Ideal Relationship Kit! within the first 30 days, just let us know. We'll refund your entire payment – NO QUESTIONS ASKED.
That's how sure we are that you'll love and value this significant material.

(Minus $12** handling for Option 1 book & CD delivery)
Why keep kissing frogs -- when
Dating After 40: Create Your Ideal Relationship Kit
will show you the way to confidently attract the "prince" you've always been looking for?
Within minutes you can be on your way to creating the future of your dreams. Order your Kit today!
Option 1: Shipped Kit -- $77.00 (free shipping included)
Option 2: Digital Kit -- $57.00